When it comes to having fun with hair colors, purple highlight is the new trend that is taking the beauty world by storm. It is an exciting color that complements a wide range of skin tones and is a bold statement to make. However, you must learn how to match your makeup and outfit to your hair color. This article explores everything you need to know about purple highlight hair and how to match your makeup and outfit to your new hair color.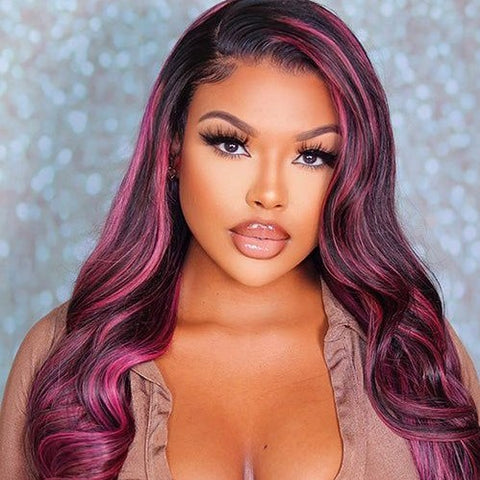 What is Purple Highlight?
    Purple highlight hair is a vibrant hair color that features different shades of purple tones. It involves highlighting a few strands of hair or coloring the entire hair in purple, creating an ombre effect or adding highlights to the hair. The final result is a stunningly beautiful and bold hair color that makes a bold statement.
Why did Purple Highlight hair become so popular?
    Purple hair colors have increased in popularity in recent years because it is a bold statement color that adds a pop of color and fun to the hair. This color can be rocked in several ways, creating stunning looks for work, parties, or just for fun, giving an edge to your look effortlessly.
The Importance of Matching Purple Highlight Hair Makeup and Outfits
    Matching your makeup and outfit to your purple highlight hair is key in achieving an overall cohesive look. A poorly matched outfit or makeup can easily clash, creating a look that doesn't align. It may lead to an uncoordinated and unfinished appearance, compromising your beauty routine.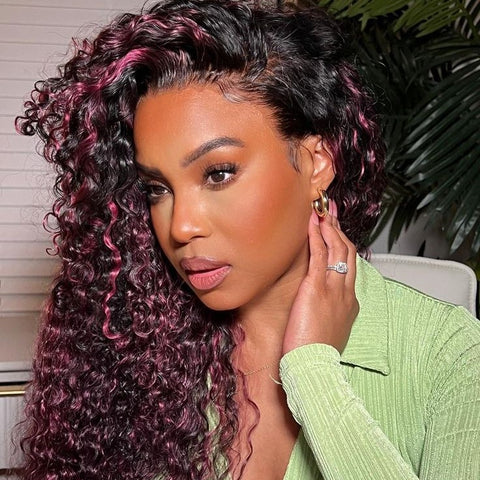 Tips on How to Match Your Makeup and Outfit with Purple Highlight Hair
    Matching your makeup and outfit to your purple highlight hair can make all the difference in elevating your look. Here are some tips to help you match your purple highlight hair to your makeup and outfit:
Consider the intensity of your hair color. If you have subtle purple highlights or an ombre color effect, consider sticking to neutral or muted hues for your makeup and outfits.
If you have bold purple highlights, such as purple hair or full purple highlights, a bit of color coordination is essential. To avoid an overbearing look, tone down your makeup, outfits with cool colors that complement the boldness of the purple.
Consider your skin tone when choosing outfits and makeup. Warmer skin tones complement with jewel tones like emerald greens, navy blues, and purples, while cooler undertones pair well with pinks, icy blues, and pastels.
Studying color theory can help you gain a better understanding of how to match colors that complement or contrast each other. Colors like red, orange, and yellow are complimentary to purples and are perfect for eyeshadow or lipstick.
What Makeup to Wear With Purple Highlight Hair?
Eye Shadow
First and foremost, it's important to understand the undertones of your hair. Metallic or silvery purple highlight hair tends to have cool undertones, while warmer variations like magenta or burgundy have warm undertones. Once you've determined the undertones, you can start choosing an eye shadow that complements your hair.
For cool undertones, shades of silver, gray, and blue work well to complement purple highlight hair. These colors can help to bring out the cool tones in your locks and make them pop. Shades of lavender and lilac can also complement cooler purple hair tones, creating a monochromatic look that is both cohesive and visually appealing.
For warm undertones, shades of pink, coral, and peach can complement warm, magenta-toned purple highlights. These colors can create a warm, summery look that is perfect for those warmer months. Also, gold, bronze, and copper hues can work well with warm purple hair shades, as they can help to bring out the warm tones within the hair.
If you're looking for a more dramatic look, consider playing with darker tones. Rich, dark purples or plums can create a bold look that works with both cool and warm undertones. These darker hues can help to define the eyes and bring out the richness within your purple hair.
Ultimately, you can never go wrong with neutrals like brown or beige. Nude browns work best for creating a subtle look, while darker browns pair well with bolder purple highlights. If you're looking to be bold, purple eye shadows create the perfect complement to your purple highlight hair.

Eyeliner
    Black eyeliner is a timeless classic that goes well with every hair color. However, white, silver, or gold eyeliner can add a pop of color and complement your purple highlight hair.
Lipstick
Matching Color Tones
The key to finding a lipstick shade that complements your purple highlights is to look for colors that are in the same color family or have similar underlying tones. For example, purple is a cool-toned color, so lipsticks with cool undertones like blue, violet, and magenta are excellent choices. A plum lipstick shade that has a bit of purple in it can create a cohesive look with your hair.
A Neutral Option
If you are unsure about what color lipstick to choose, you can never go wrong with a neutral shade. Nude, pink, and beige lipsticks match any hair color, including purple highlights. They also look elegant and natural, perfect for any occasion.
Stay Away From Reds
While red lipstick is timeless and classic, it may not be the best option for purple highlights. It can clash with the boldness of purple and create an overly vibrant look. If you want to wear a red lipstick, stick with darker shades like burgundy or maroon, which have a deep purple undertone.
Consider Your Skin Tone
It is essential to choose a lipstick shade based on your skin tone, regardless of your hair color. If you have fair skin, try a light pink or nude lipstick. For those with medium skin tones, berry or rose-colored lipsticks work great. And if you have dark skin, try a bold, bright lipstick in magenta or fuchsia.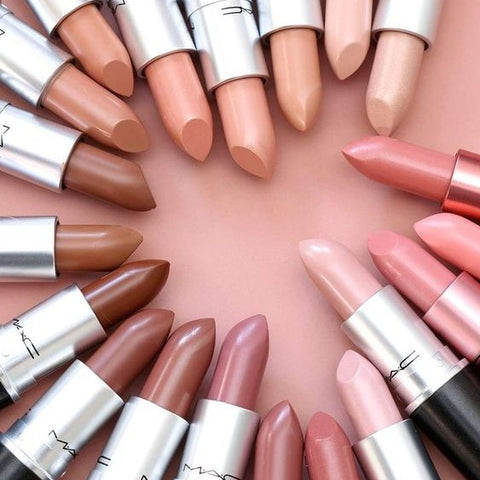 Remember, makeup is subjective and personal. There are no hard and fast rules on what kind of lipstick to wear, the most important thing is that you feel good and confident about your look. Experiment with different shades, and you'll soon find the perfect lipstick that compliments your purple highlighted hair.
Dress
    Choosing the right dress color to complement your purple highlighted hair can be a tricky task. Getting the right match is important to ensure that you stand out and look your best. If you are not confident in your fashion sense, don't worry. We have put together a guide to help you find the perfect dress color to match your purple highlighted hair.
Black – Black is the perfect color to match purple highlights. It is a classic and timeless color that goes well with any color of hair. A black dress paired with purple highlights creates an on-trend look that is sure to turn heads.
White – If you are looking for something fresh and clean, then white is the perfect color. This color will make your purple highlights pop and give your outfit a bright and airy feel. A white dress with purple highlights is perfect for a summer day or a beach wedding.
Pink – Pink is a girly and feminine color that goes well with purple highlights. A soft pink dress combined with purple hair will give you a fun and playful look. You can also experiment with different shades of pink to find the perfect match.
Blue – Blue is another great color to match with purple highlights. It gives a cool and calm vibe to your outfit. You can go for a dark blue dress if you are looking for a more sophisticated look, or a light blue dress if you want a more playful and whimsical appearance.
Green – Believe it or not, green can be a great color to match with purple highlights. This color can give your outfit an earthy and natural feel. You can opt for a deep forest green dress, or a lighter shade like mint green for a softer look.
In conclusion, when choosing a dress color to match your purple highlights, there are many options that you can choose from. Black, white, pink, blue, and green are all great options that are sure to make your hair stand out. Remember to experiment with different colors and styles until you find the perfect dress that complements your purple highlights.

Is Purple Highlight hair color attractive?
    Are you looking to make a bold and daring statement with your hair color? Then look no further than purple highlights! This stunning hair color hue is both unique and striking, making it the perfect choice for those who want to stand out from the crowd.
    Not only is purple highlight hair color attractive, it's also versatile! You can choose to go all-in with a full head of purple, or simply add a few subtle highlights or tips. These purple accents can be incorporated into any type of hair, whether you have straight, curly, thick, or fine hair.
    If you're concerned about the maintenance of such a bold hair color, fear not! Purple highlights can easily be touched up as needed, and there are plenty of shampoos and conditioners designed specifically for color-treated hair that will help keep your new look looking fresh and fabulous.
    So why wait? Whether you're looking to make a bold statement or just switch up your hair look, purple highlights are sure to turn heads and leave everyone around you in awe.